Paula Steige owned and operated Macdonald Book Shop for over fifty years. She was the third-generation woman in the Macdonald Family to run the shop. Her grandfather and grandmother provided a legacy Estes Park can be proud of by buying the property for the book shop from the National Forest Service. In 1907, the National Forest Service built a two-story log cabin for their headquarters, but a year later they relocated to Loveland and J. Edward Macdonald purchased what we call Macdonald Book Shop.
Mr. Macdonald visited Estes Park in 1902 from New York. Originally born in Wisconsin, he was raised in New York. It would take a few years for Mr. Macdonald to relocate to Estes Park, but he did and became one of the town's founding fathers.
During a visit to Estes Park, Jessica Chapin met J. Edward Macdonald. Jessica Chapin was a territorial daughter of Colorado. The two married and Jessica left Colorado to live in New Jersey with her husband J. Edward Macdonald. However, the mountains called to both and so in 1907, they returned to Estes Park with Louise and Marcia, their two daughters. Louise was two at the time and her sister was one. 
In 1908, J. Edward purchased the tiny log cabin from the forest service for their home. He also opened the hardware and general store called Macdonald and Sons. The shop sold several items, including books, groceries, and equipment. Books lived in a small corner of the mercantile until 1928. 
1928-1932
Overflow from the general store ended up in the front parlor of their home in 1928. Books, school supplies, and other items were sold. During this time, J. Edward Macdonald retired from the mercantile. He helped Jessica run the bookstore. 
Local author Mari Sandoz and publisher William Allen White visited the shop. They corresponded with Jessica. 
Ed, age 71, died, leaving behind Jessica and his two daughters to run the book shop. The store was only open in the summers. Louisa and Marcia helped out. 
As the years went by, the book shop expanded to take over more of the family residence. Louise continued to help every summer, along with her children Paula and Mark. 
The shop became a staple for Estes Park, with visitors and residents alike depending on Jessica Macdonald and her beloved store. 
Rhoda Tallant, Jessica's niece, started helping out in the summer.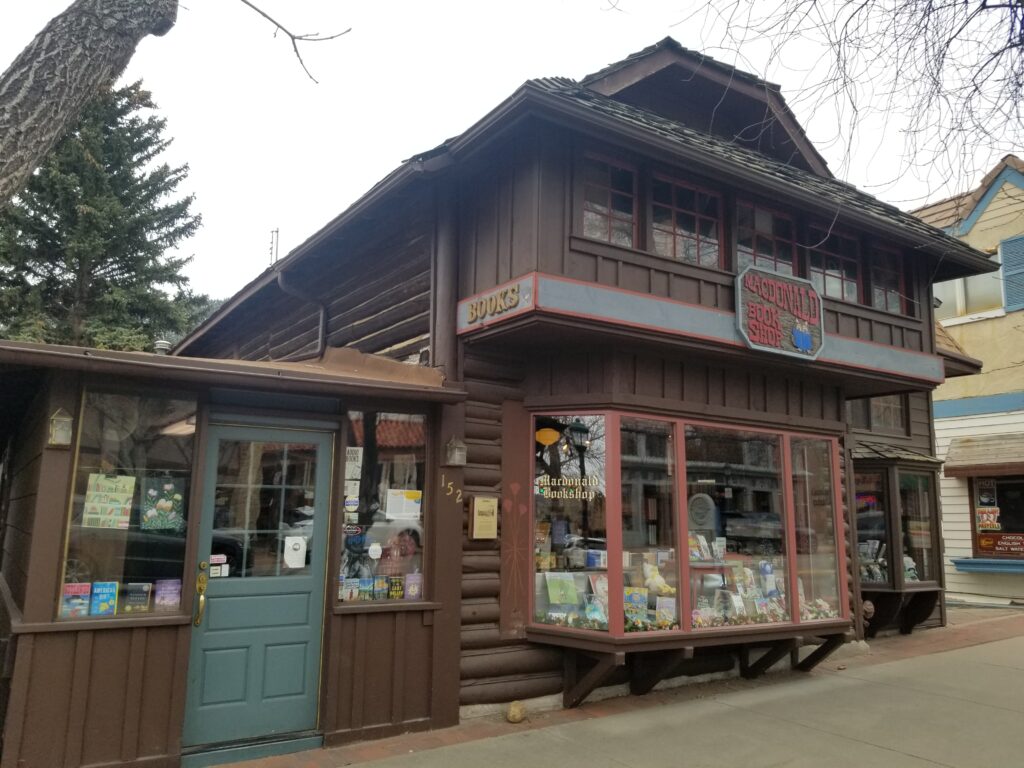 1957-1971
Jessica, age 83, died in her sleep in 1957. She left the book shop to her daughters. Louise moved to Trinidad with Paula and Mark but helped out in the summers. 
Louise ran the store in the summers until 1971. While working as an art teacher in the Estes Park School District, Paula retired and took over the store. With the help of Stacia (Anastacia) and Stephen, she kept the store open year-round. 
1982 
The Lawn Lake Flood devastated the book shop. With the help of 80 volunteers, the store was repaired, including a new front window and flooring. Paula also expanded the books into more of the home. 
In 1992, Paula and Stacia opened a new shop behind Macdonald Book Shop. Stacia ran the Macdonald Papeterie until she married and moved away with her husband. It became a cafe and papeterie, eventually being renamed Inkwell and Brew.  
2018
Paula knew she didn't want to own the shop until it hit its one-hundredth anniversary, so in 2018, she held a 90th-anniversary party to celebrate her family and the book shop. 
Paula, joined by Walt, her husband, closed Saturday nights. From its humble beginnings, Macdonald Book Shop continues to fascinate and serve those who live in Estes Park and those who count themselves lucky enough to visit, just as J. Edward Macdonald did over a century ago. 
Paula wanted to sell the store's inventory in 2020, and then covid occurred. She had to wait until September 2020 before the sale could go through. Paula chose to retire, leaving her legacy in the hands of a new generation and family with just as much love for books.  
Kevin and Staci
Kevin and Staci (Anastacia) Galloway Reed have brought Paula's vision back together with Inkwell and Brew's ownership and Macdonald Book Shop. 
On September 10, 2020, Kevin and Staci officially purchased Macdonald Book Shop to ensure Estes Park's town will have this iconic bookstore for decades more. 
Staci and Kevin settled in Estes in 2011. Both Kevin and Staci have lived in other countries, experiencing world cultures. Kevin started managing the Inkwell and Brew when the couple relocated to Estes. In 2013, Kevin and Staci bought the shop. 
Staci started working for Riverspointe Spa as a receptionist before working at Eagle Rock School. 
The pair complement each other in their knowledge and love of books. 
Kevin and Staci have two young boys, Luca and Bodhi. They are family and community-oriented. 
With their knowledge of the Estes Park Community, background in languages, and love of books, customers can rest assured Macdonald Book Shop will remain a great place to find a cozy place to read.